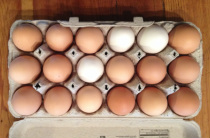 Our hens are free to forage by day. In addition to forage, they are given fodder and have certified organic, non GMO, soy free feed available. Eggs are $6/dozen. We do weekly egg drops in Colorado Springs, contact us for details.
---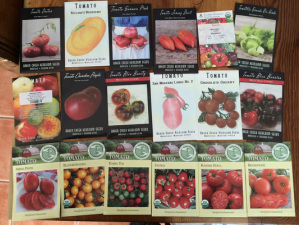 Our produce is grown using heirloom seeds. We never use any genetically modified seed. We don't like to eat chemicals so we don't use them on our produce. We prefer employing natural methods, even when it means we have to pull weeds and smash bugs by hand.

We grow a variety of produce each year. Several types of peppers, from mild & sweet to hot & spicy. We love our greens...kale, spinach, chard, collard greens and many varieties of lettuce. Root vegetables including beets, onions, radishes, potatoes and carrots. Squash, beans, peas, corn, melons, pumpkins, cucumbers, even rhubarb! We also grow herbs such as basil, cilantro, thyme and tarragon. Did I mention tomatoes?
---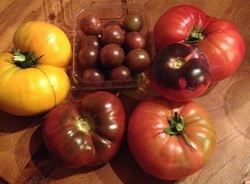 We specialize in heirloom tomatoes. The taste of an heirloom tomato allowed to ripen on the vine can't be beat. Whether you like them big or small...red, yellow, orange, or green...we've got what you are looking for! We typically grow 20-30 different varieties. Available from late July to October. You can buy them by the pound and in 10lb cases. Contact us for special orders.


---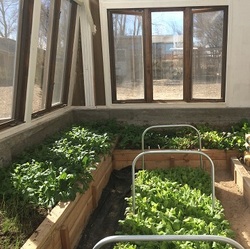 We recently built a greenhouse! It is a passive solar greenhouse that was built using recycled windows. The floor is dug approximately 3 feet into the ground and planting beds line the exterior and middle. The metal rails you see in the center row are used to make shelves for our starter plants. We place 2x4's across the rails to act as shelves for the planting trays.

We are able to grow greens through the winter and spring months in the greenhouse. Spring and winter greens are sold at the winter CFAM markets and can be delivered in conjunction with weekly egg drops. Contact us for details.
---